To help organisations to continue to operate – as well as protecting staff and customers – Hill Trident has expanded its product range to include high quality, robust covid protective screens.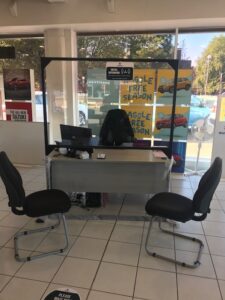 Manufactured from the highest quality, quick clean, non-scratch acrylic and framed with a sturdy, stylish, powder coated metal frame, the Hill Trident covid protective screens provide protection for both staff and customers. As well as allowing organisations to continue to operate safely during the pandemic.
The Hill Trident covid screens are available in various sizes, with short turn around times to allow organisations to acquire them quickly. The screens are ideal for a variety of organisations and settings, including:
Service areas
Reception areas
Sales areas
Office spaces
Industrial environments
Retail environments
The Hill Trident covid screens can be provided as supply only and are simple to install. Alternatively a Hill Trident engineer can install the screens if required.
For more information on covid protection screens, please contact us.